Sewage Backup Cleanup in Southern Houston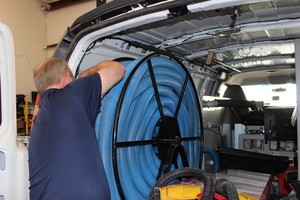 A sewage backup in Southern Houston can wreak havoc in your home or office. As it is highly contaminated, you may have to exit the property immediately. Not only is this a hassle, but it can disrupt your daily routine. However, to get your life back to normal, act fast. Call us for immediate relief from sewer backup in Southern Houston.
At 911 Restoration of Southern Houston, we understand the urgency this situation demands. Therefore our team arrives at your premises well-equipped and geared in PPE within or less than 45 minutes. Our goal is to deep clean your property in the fastest time and restores it to its pre-damaged state. Contact us for professional and reliable sewage backup services.
Certified Crews to Your Rescue
We rely on our expert team to deliver you superior cleanup and restoration services. Our crew features compassionate professionals who are highly trained, experienced, and IICRC-certified. Hence, we know how to handle sewer backup in Southern Houston safely and with responsibility.
We never recommend property owners to deal with the sewer or black water clean up alone. This is because water from the sewage is highly contaminated. It contains viruses, microbes, pathogens, and bacteria. If you touch or handle the sewage water without proper gear, you can expose yours
elf to severe illnesses. The bacteria can affect your health, putting you at risk of hepatitis A, tetanus, and giardia. Hence, always seek professional assistance.
Allow our skilled and expert crew handles the job. We quickly tackle critical sewage cleanup tasks to your complete satisfaction. Our techs assist you at every step of the clean up process while you sit back and relax. There is absolutely nothing to stress with us as our team compassionately works to clear up your property from sewage water and restore your environment and property safely back to normal.
We strive to help reclaim your property by eliminating the threat of pathogenic contamination and diseases. Give us a chance to help you. Call us now.
How Our Cleaning Process Works?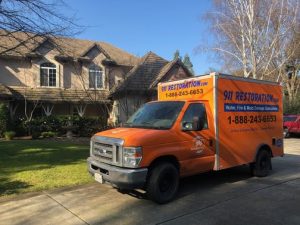 Sewage backup can occur due to many reasons. Most often, blockages are caused by:

Soil settlement

Root infiltration

Misaligned joints

Pipe burst

Items flushed down the drain

Grease buildup



No matter the cause of the sewage backup, we have the expertise and right training to manage any situation. At 911 Restoration of Southern Houston, we follow a comprehensive sewage cleanup process to protect your valuables and belongings.
We use specialized and cutting-edge equipment to pump out the sewage water from your property. Next, we remove contaminated furnishings, flooring, and carpets to limit the risk of further contamination. Our techs use professional-grade air scrubbers and movers to ventilate your property and dry the area in the shortest time. These steps are much needed to prevent the spread of bacteria and microbes that can cause sickness and disease.
Post disinfection, we also take the necessary steps to identify mold presence. This step is essential because there is a risk of mold growth where there is water. Besides this, mold can grow within 42 hours of water damage. Therefore, it is crucial to check for mold and remove it before it becomes a severe health hazard.
At 911 Restoration of Southern Houston, we also perform repairs and restoration work to get your property to its pre-loss condition after a devastating event like sewage backup. We also specialize in biohazard cleaning services.
For more information about our services or immediate assistance with black water clean up, reach us fast. Let us help.