Sanitization Services in Southern Houston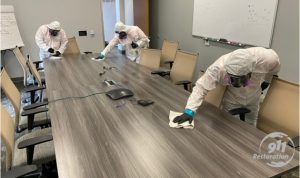 COVID-19 is a constant threat to everyone. Both residential and commercial property owners in Southern Houston are overwhelmed by the ongoing need to maintain clean spaces ensuring their families, customers, and employees are safe and not exposed to the threat. If you, too, require quality and specialized COVID-19 cleaning services, then look no further. Contact 911 Restoration of Southern Houston today. We are a trusted and licensed sanitizing company in Southern Houston dedicated to helping families and business owners feel safe in times of uncertainty.
Get a Customized Sanitization Plan for Your Living or Work Space
Whether you need a weekly, bi-weekly, or daily sanitization plan, we can assist you with all your cleaning needs. Our IICRC-certified and experienced techs can provide you with a tailored sanitization plan according to your:
Requirements

Business goals

Flow of traffic
At 911 Restoration of Southern Houston, we are here to help you fight against COVID-19 and other viruses. Give us a chance to assist you. We promise you will be happy with your decision just like our other clients. Our number one priority is to keep our clients' properties safe and healthy.
Specialized COVID-19 Cleaning Services- How We Keep Your Business and Home Clean and Safe?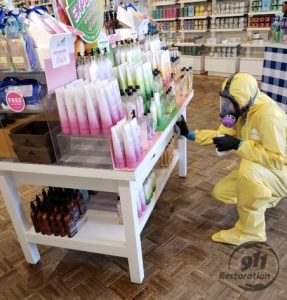 At 911 Restoration of Southern Houston, we are strongly committed to playing our part in keeping facilities and homes clean and bacteria-free. In the age of COVID, we have taken special steps and preventative measures to serve our clients. Our techs are trained to follow CDC and EPA protocols. Hence, cleaning procedures and services conform to their recommendations for COVID-19.
At 911 Restoration of Southern Houston, our IICRC-certified techs come equipped and suited in PPE gear to clean up your space with complete responsibility and prevent the risk of cross-contamination. During the sanitization and cleaning services, our crew follows a stringent cleaning process to ensure all areas of your property are thoroughly and spotlessly clean.
From disinfecting high-touch objects and surfaces such as phones, doorknobs, and furniture to sanitizing high traffic areas, we make sure everything is cleaned to minimize the risk of an outbreak. Our experts use only EPA-registered and hospital-grade broad-spectrum disinfectants, which are incredibly effective for killing fungi, pathogens, viruses, bacteria, and even mold.  
In fact, we seek to be your trusted and dependable resource for sanitizations services in Southern Houston. Though we can't guarantee 100 percent elimination or prevention of coronavirus from your home or facility, we can help lower the risk of its spread. For best results, we request our clients to follow the recommendations of CDC too such as
Maintain social distancing 

Wear gloves and masks 

Ensure personal hygiene
After all, this is a difficult time for all of us. However, if we work together as one unit, we can keep others safe and protected. 
Contact us today to discuss your sanitization needs and goals. Get a customized plan that suits your needs.