Mold Removal in Southern Houston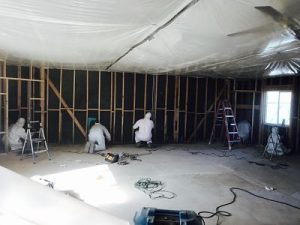 Is there a musty smell inside your home or office? Can you see black spots on the ceiling or walls? If yes, then contact us for professional mold removal in Southern Houston right away. This problem is bigger than you'd think. That's right; mold presence can cause a great deal of damage.
It can damage your walls, ceilings, and floors, eating deep into the materials fast and weakening them. Besides this, it can cause serious damage to the wooden support beams, furniture, and carpets.
Likewise, once mold infests your property, the number of mold spores grows exponentially in the air you breathe. When inhaled, it can expose you and your family to the risk of respiratory problems like asthma and allergies. Additionally, mold spores create mycotoxins which are dangerous organisms that attack the immune system and jeopardize health.
Therefore, if you suspect mold growth, schedule mold remediation in Southern Houston immediately. Contact our experts for professional assistance. We treat mold infestation as an emergency. Hence, expect our techs to arrive within or less than 45 minutes.
Certified Professionals Qualified to Remove All Types of Mold Infestation
At 911 Restoration of Southern Houston, our IICRC-Certified crew is trained to:
Safely check the air quality

Understand the underlying causes of mold spores in the environment

Quickly tackle and eradicate mold infestation from your property
No matter the scope of the problem or type of mold infestation, we have the experience, expertise, and equipment to handle any mold infestation problem to your complete satisfaction.
At 911 Restoration of Southern Houston, we extend our services to all property owners, including residential and commercial. Whether you need services for mold remediation in schools, restaurants, or offices, you can contact us. All mold removal services are offered in conformance to the local and EPA guidelines. When searching for mold restoration near me, reach out to us now. We'll come to your rescue.
How We Assist Property Owners with Mold Removal in Southern Houston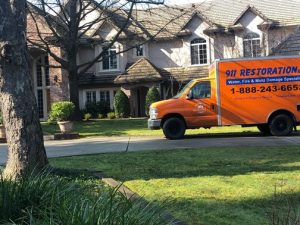 At 911 Restoration of Southern Houston, we strive to eliminate mold from your business or home, providing you with a safe and healthy environment once again. Our services are backed with over two decades of industry experience, so you can trust us with what we do.
We start with a full property inspection. This is much needed to identify the areas of mold growth inside your property and the level of infestation. Mold usually grows in dark, damp, and hard-to-reach areas. However, when our experts are at work, no area of mold infestation can go unnoticed.
Next, we take samples of the infestation from the air and surfaces. This helps us determine the type of mold growth. Once we are clear about the infestation type, we choose the best measures to eliminate mold presence from your property from every nook and corner.
After complete eradication, we sanitize and disinfect, ensuring your property is spotlessly clean and completely free from mold. At 911 Restoration of Southern Houston, our techs work with compassion, efficiency, and accuracy. We address the problem right away and to your complete satisfaction so that you can move forward with life in your space with confidence and without worrying about the air quality and health dangers.  
At 911 Restoration of Southern Houston, we are at your service round the clock because we know that an emergency can occur anytime. There is no time to wait. A fast response can protect you from costly damages. Reach out to us now.